St. Bernard has a huge and lively Filipino Community. The Filipino Prayer Group meets every 1st Wednesday of every month! All are welcome to attend at 6:30pm.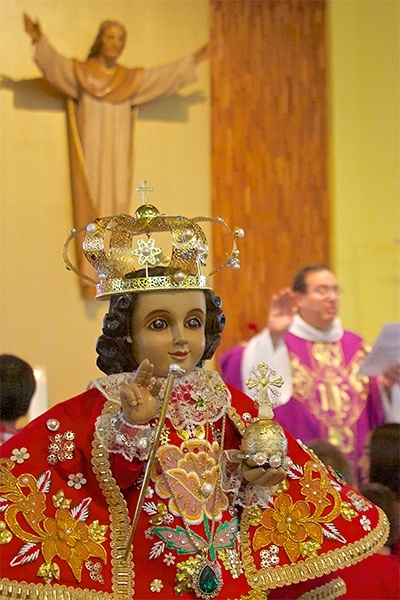 St. Bernard is also the home of "El Santo Niño de Cebú" which has been venerated by Filipino Catholics worldwide. In 2013, after a 25-year wait, the Filipino community of South Florida welcomed the arrival of the image of El Santo Niño, brought from Cebú City, Philippines, to its new home!
Hundreds gathered at our parish on December 8, 2013 to take part in the blessing and enshrinement of the image of the Holy Child at its first permanent shrine inside a church in South Florida. St. Bernard is very blessed to welcome El Santo Niño de Cebu!
Father Vega with El Santo Niño de Cebu.
The image was then entrusted to the Augustinian Fathers and later a church was built at the same location where it was found, currently known as the Minor Basilica of Santo Niño. Many miracles have been attributed to the image, including during World War II when a bomb fell inside the church but the image was found unscathed.
St. Bernard will serve as the permanent home for "El Santo Niño de Cebú" and welcomes anyone to visit him at the indoor shrine.